Home  »  News
» Cost effective pipeline repair technology
June 2010 -
PermaWrap is a permanent, cost-effective pipeline repair technology
Environmental and personal safety issues have created the need for more effective preventive planning on oil pipelines. For companies operating these pipelines, a leak, no matter how insignificant it might seem, can result in major liabilities. As such, pipeline operators are increasingly concerned with monitoring the performance of pipes that are becoming fatigued and weak. According to figures published by the U.S. Department of Transportation's Pipeline and Hazardous Materials Safety Administration (PHMSA), as much as 30 percent of all pipeline failure incidents reported was caused by corrosion. There are thousands of miles of pipelines that are required to transport oil to support the consumption requirements of the public, and as pipelines get older and the population grows on what was once vacant land, the public impact of a significant leak becomes more and more likely. According to figures published by the PHMSA, there are a substantial number of pipeline incidents that cause significant damage to the environment, property, and in some cases life itself. In addition, the financial loss to the industry due to these incidents is hundreds of millions of dollars annually.
To address this Russell Technologies India Pvt. Ltd. along with Wrap Master Corporation (USA) carried out a test during mid June to demonstrate how PermaWrap technology can be used to provide pipeline operators a peace of mind. For the test, a 12x18 PermaWrap reinforcement sleeve was installed on a 12-inch diameter pipe with a 6-inch x 8-inch x 80 percent machined defect. The pipe specimen was then pressured to 200 kg/cm² (2845 psi).
The patented PermaWrap composite reinforcement sleeve is a pre-manufactured rigid composite pipe wrap with some distinct advantages that are of direct benefit to our oil companies. PermaWrap composite sleeve is magnetically detectable for "smart pig" detection, eliminating any post identification method or procedure. This feature alone has saved our clients thousands of dollars each year in un-necessary excavations for pipe repair. Its patented "diamond grip" embossment technology provides a mechanical locking system allowing the individual layers of the wrap to nest within each other even on an incline or in the vertical position. This feature virtually eliminates telescoping during the composite wrap application.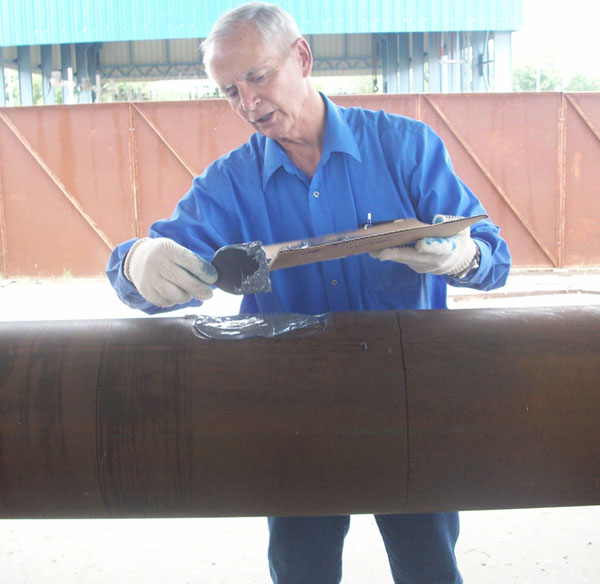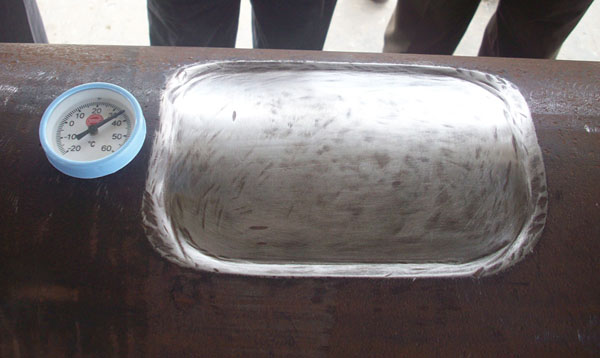 "PermaWrap is a permanent, cost-effective pipeline repair technology, suitable for non-leaking/leaking (conditions apply) defects such as pits, dents, gouges, and external corrosion. PermaWrap can be performed on an operating pipeline without taking it out of service. It permanently restores and reinforces the pressure-containing capability of the pipe. PermaWrap can serve as a technically superior and much safer alternative to the traditional pipeline repair practices such as pipeline replacement or the installation of full-encirclement steel split sleeves. PermaWrap repair has additional advantages of avoiding service interruptions and eliminating product emissions to the environment due to damaged pipeline.